The campaign, in which the ICM, the UTM and the UB are involved, will study the geochemical signal of the waters that are formed in the Mediterranean and exported to the Atlantic through the Strait of Gibraltar to assess their sensitivity to climatic oscillations.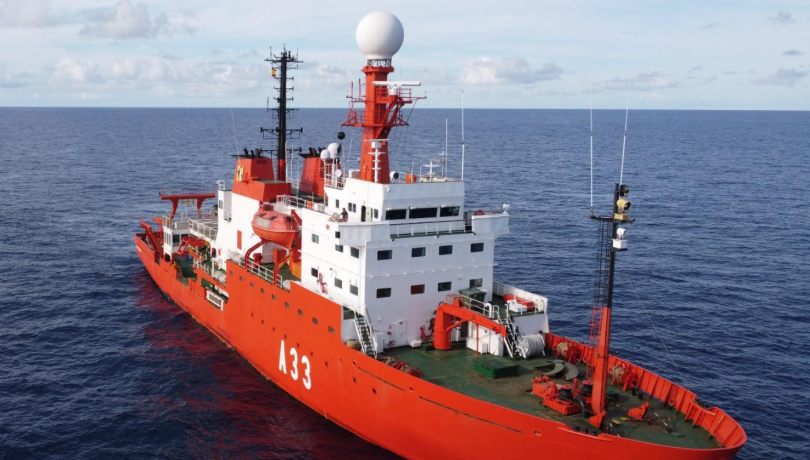 On 28 April, the oceanographic vessel Hespérides will depart from the port of Barcelona for Gijón and, during 18 days, will border the Iberian Peninsula with the aim of characterising, as part of the TRANSMOW oceanographic campaign, the geochemical signal of the waters that are formed in the Mediterranean and exported to the Atlantic through the Strait of Gibraltar.
The TRANSMOW oceanographic campaign will collect water samples, surface sediment samples and long sedimentary sequences to understand the potential impact of the Mediterranean water mass on the Atlantic thermohaline circulation system and to try to identify the impact of past climate changes on this flow of Mediterranean water masses.
César Rodríguez and Arturo Lucas from the Marine Biogeochemistry and Global Change Group at the Institut de Ciències del Mar (ICM) are taking part in the campaign, led by researchers from the UB's Marine Geosciences Group. Their task will consist of determining the alkalinity and pH along the entire transect and at different depths, which, together with measurements of new innovative chemical tracers (such as neodymium and rare earth elements), will improve the estimation of the mixing of the MOW (Mediterranean Outflow Water) with the surrounding Atlantic waters.
Together with these measurements in the water column, the recovery of marine sediment samples will allow to reconstruct the evolution of these same variables in the past through the analysis of microfossils shells, organisms that incorporate in their skeleton the chemical signature of the waters in which they lived.
In this regard, and thanks to the collaboration with the UB Research Group, ICM researchers Carles Pelejero and Eva Calvo have recently developed a methodology to analyse boron isotopes in these shells, which will allow reconstructing seawater pH in the past.
"Despite the current context of increasing anthropogenic CO₂ emissions and the resulting ocean acidification, we still have very little information on the evolution and variability of past seawater pH and, in the case of the Mediterranean, this information is non-existent", states Eva Calvo.
"The results of the TRANSMOW campaign will help us to better understand the mixing pattern and the path of the MOW in the Atlantic Ocean, data that will allow us to better characterise this body of water and assess its sensitivity to climate oscillations", says UB researcher Leopoldo Pena, who warns that "in the current framework of climate change, future projections indicate significant changes in both the Mediterranean and Atlantic current systems".