This weekend, a team of researchers tagged 7 individuals this species, 3 of which were electronic, which will keep track of their movements for a year.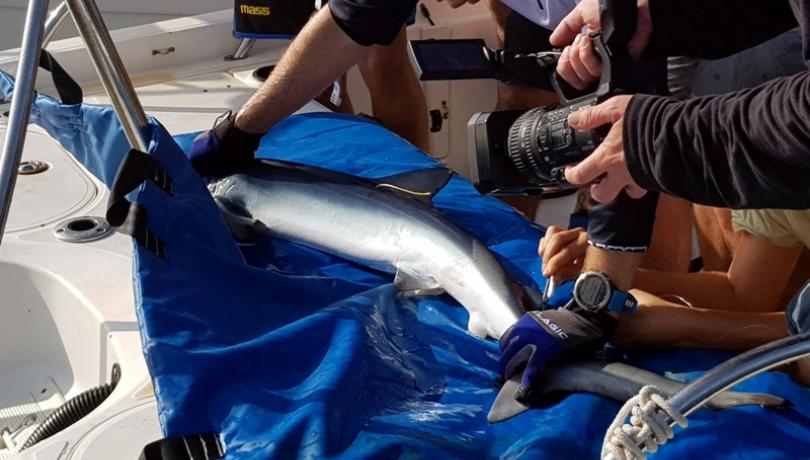 Last weekend, researchers from the Institut de Ciències del Mar (ICM-CSIC) of Barcelona, with the collaboration of fishers deployed tags on 7 individuals of the blue shark, Prionace glauca, off the coast of Port de la Selva (Alt Empordà). The aim of this action is to increase the knowledge of the species in order to improve its management and conservation status.
In the Mediterranean, the population of blue shark has been notably reduced during the last years, as it has happened with other shark species. In fact, since the 19th century, it is estimated that the populations of some of these marine predators have been reduced by more than 90%, bringing them to the edge of extinction.
That is why actions like the one last weekend, in which the Catalan Association for Responsible Fishing (ACPR), the Barcelona Zoo Foundation, the diving company Sotamar and the Faculty of Veterinary Medicine of the UAB also took part, are so important. In the end, the aim is to help establish a solid scientific basis to reverse the current situation.
"This action seeks to provide managers with accurate data on the main feeding and reproduction areas of the species in order to make a more sustainable use of the marine environment," states the ICM-CSIC researcher Joan Navarro, one of the project coordinators.
For his part, Pablo Cermeño, from the Barcelona Zoo Foundation, explains that "this first marking campaign has allowed us to demonstrate that the public and science are capable of carrying out great actions for the protection of nature when they work as a team".
Finally, the coordinator of the fishers, David Juanolas, vice-president of the ACPR, highlights the success of this first event and assures that "the effort has been worthwhile and the participating fishermen have gone home happy and eager to participate in other campaigns".
Specifically, the tags deployed on the different individuals will inform the scientific team of their spatial positions during one year, which will allow to understand their movements, their relationship with oceanographic parameters and their possible interaction with fisheries.
Within the framework of this scientific project, it is planned to deploy more tags on other specimens of this and other species of sharks and pelagic rays over the next few years in order to study the entire community of these top predators in the western Mediterranean.