Did you know that there are also submarine canyons? And that these structures are not only found on Earth, but also on other planets? Their evolution depends on climatic conditions and, in the sea, their study begins with the analysis of bathymetric data.
Canyons are huge geologic features that are described both on land and in marine environments. As maps show, land and submarine canyons are astonishing alike, that's why we think they have similar geologic evolution, they are shaped by the same physical laws.
But canyons are also present on other planets! Valles Marineris is not only the largest canyon on Mars; with its more than 4,000 kilometres long, 200 wide and 10 deep, it is the largest in the Solar System. But…Are the canyons on Earth related to those on Mars? Do they obey the same formation processes?
Giant underwater valleys
Submarine canyons can be defined as seafloor-valleys with heads located at the continental shelf that extend across the continental slope. Its morphology is diverse but is commonly defined by a canyon head, an upper course deeply excavated (sometimes with tributaries) into the continental slope, a middle course, where the relief is smoother; and a lower course with low-relief side-walls that is commonly transitional to a deep channel.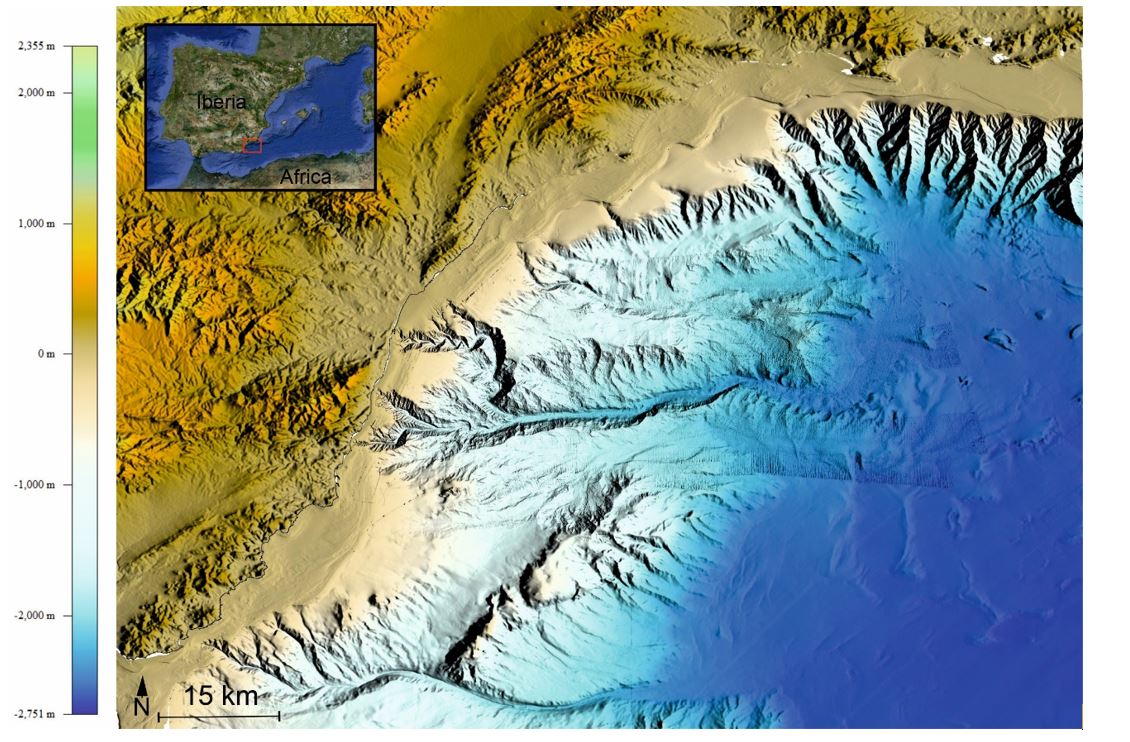 The classical model of submarine canyon evolution proposes active canyon formation during low sea level periods. According to this model, the principal control on submarine canyon activity is the coupling of the submarine canyon system to terrestrial sediment sources, by direct connection to either fluvial or littoral sediment transport (waves, tides, currents) that redistribute sediments along the coast.
Submarine canyons are present in all continental margins, and all latitudes. River-associated, shelf-incising canyons are in general greater in size, length and incision than blind canyons (those with no connection to the continental shelf).
The shortest length, smallest incision and area (in average) are observed for the submarine canyons located in the Mediterranean and Black Seas. Conversely, Earth's largest canyons are located on polar slopes, for example, the Bering-Bristol-Pribylov Canyon complex which covers 33,340 km2 in Alaska.
Evolution and research tools
The evolution of terrestrial canyons such as the 446 km long, 29 km wide and 1.8 km deep Colorado Canyon, is related to large flood events or landslides. However, underwater canyons evolve by the effect of periodic landslides and large storms that funnel a lot of sediment, nutrients and in recent times garbage, from the shallow continental shelf.
Submarine canyons then can propagate both upslope and downslope by the combination of sedimentary instability processes and from incision by erosive turbiditic flows. Accordingly, the heads of canyons may migrate upslope towards the shelf or the coastline.
The study of submarine canyons starts with the analysis of bathymetric data which reveals their morphology and enables the definition of morphometric parameters (e.g. sinuosity). Besides, the analysis of seismic data offers indirect observations of the tectonic-sedimentary framework and allows us to understand the geologic evolution of canyons through millions of years. Finally, other methods such as sediment sampling contribute to understanding the sedimentary processes and sediments funneled.
What about Mars?
What do the Martian canyons look like? Do they form and evolve in the same way as the ones on Earth? The truth is that there is not yet a definitive answer to this question, as it is not easy to demonstrate large flood events or recurrent sediment flows in the Martian environment since liquid water cannot exist in most current Martian surface conditions. Probably Valles Marineris is a large tectonic structure enlarged by landslides and avalanches. Nevertheless, in some flanks of the canyon, there appear to be channels that may have been formed by water or carbon dioxide flowing.